According to local observers, there have been 113 attacks during the election period in Afghanistan reported: armed attacks to polling stations, their workers and voters, and shelling.
---
These attacks resulted to at least 32 people killed and 123 injured. Of the 113 attacks recorded, the Taliban have already claimed responsibility for 64, and the source of 59 remains officially "unknown". Total attacks were recorded in 26 of Afghanistan's 34 provinces, in 11 provinces people were killed.
The largest number of attacks, 29, occurred in the least-controlled mountain province of #Nangarhar, on the border with #Pakistan. Seven attacks occurred in the provinces of Lagman, Parvan and Sar-i-Pul, six in Fariab and Zabul, and single attacks in Host, Badakhshan, Kabul, Kunar, Samangan, Kunduz, Farah, Ghazni, Helmand, Kapis, Nimroz, Nuristan, Paktia, Tahar, Uruzgan, Baglan, Balkh and Daikundi. The largest number of victims of the election day were recorded in Sar-i-Pul, Nangarhar, Kunar and Balkh. The clash against the tribalist controversy took place in the Parvan province.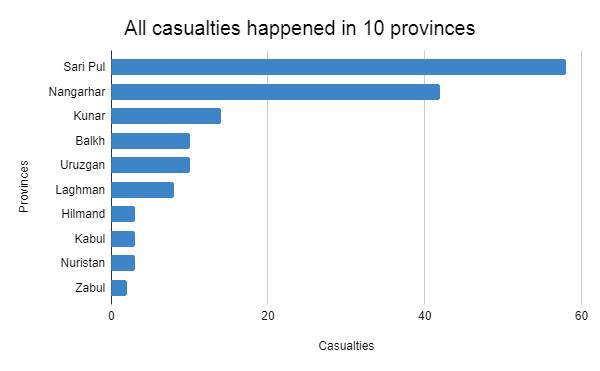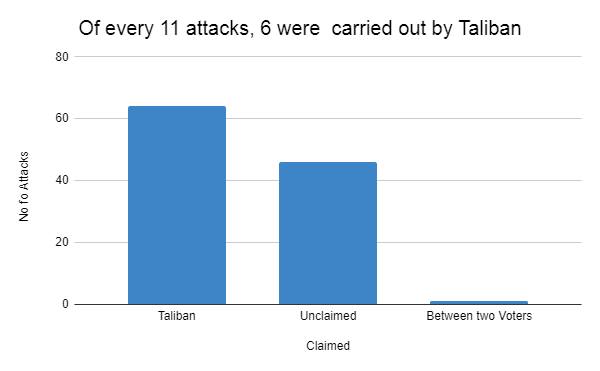 At the same time, the NSA states that dozens of militants have been prevented by security forces across the country, including 14 terrorists have been arrested in Kabul, and 34 were killed by special operations in Logar, Ghazni, Nangarhar, Balkh, Herat, Kunar, Helmand and Host. In total, 251 terrorists were killed during four days before the elections. As for one, the Taliban claim that they carried out 513 attacks on the government facilities and killed 422 government security personnel over the period.
Geo Tags
#Afganistan #Pakistan

#Nangarhar #Lagman #Parvan #Sar-i-Pul #Fariab #Zabul #Host #Badakhshan #Kabul #Kunar #Samangan #Kunduz #Farah #Ghazni #Helmand #Kapis #Nimroz #Nuristan #Paktia #Tahar #Uruzgan #Baglan #Balkh #Daikundi #Parvan #Logar